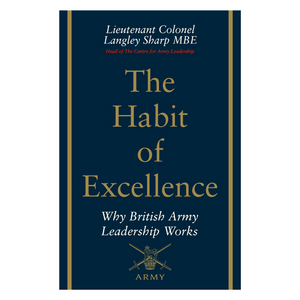 Sandhurst Trust
Book - The Habit of Excellence (Signed)
Regular price
$26.00
$0.00
Unit price
per
Tax included.
The British Army stands or falls on the quality of its leadership. The stakes couldn't be higher.

In The Habit of Excellence, Lieutenant Colonel Langley Sharp MBE - previous head of the Centre for Army Leadership, part of the Royal Military Academy Sandhurst - distils over three centuries of the Army's experience in the art, science and practice of leadership.

Exploring questions that are fundamental to leadership in any area of life - how to build trust and cohesion, achieve a balance between control and delegation, and deliver results in the face of adversity - the book draws on Lt Col Sharp's own experience and the latest research in military history, business, sociology, psychology and behavioural science.
We see that leadership is not about the heroic exception, but the habitual practice of doing what is right, difficult and necessary every single day to build a team, look after the people in it and work towards the next objective.

This is the first time one of the world's most revered institutions has given an inside and institutional view on what makes its leadership so effective. Going far beyond the latest leadership fads, The Habit of Excellence is for any leader committed to maximising the effectiveness of their teams and unlocking the potential of their people - and themselves.

The official British Army book on what makes its leadership so successful, and how to become a better leader yourself - whatever your field.

'Valuable in any walk of life' General Sir Mike Jackson, former Chief of the General Staff


"A terrific book - one that is full of insights and lessons that will be of enormous value to leaders in all fields! I was privileged to witness the strength of British Army leadership first-hand, serving alongside British forces during the Cold War and in Bosnia and then commanding British forces in Iraq, Afghanistan, and throughout the greater Middle East. Lt Col Langley Sharp distils and describes very effectively the impressive elements that exemplify the leadership of our most trusted ally and partner'
General David Petraeus, US Army (Ret.), former Commander of the Surge in Iraq, US Central Command, and the International Security Assistance Force in Afghanistan, and former Director of the CIA
Publisher ‏ : ‎ Penguin Business (7 Oct. 2021)
ISBN-10 ‏ : ‎ 0241507502
Hardcover ‏ : ‎ 336 pages
Dimensions ‏ : ‎ 15.24 x 23.34 cm
RRP: £20
---